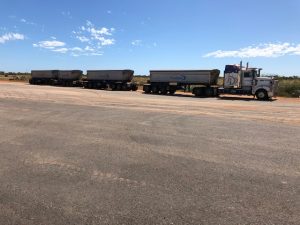 Brookdale Quarry Supplies can work with you to provide you with the most suitable product for your project.  We have the ability to produce materials to meet most job specifications.  Our focus is producing supplying and delivering the product.  We have an 8t rear end tipper and a 23t side tipper for our local Port Hedland deliveries. We have a number of road trains available for larger scaled projects and contracts in and around the Pilbara region as well as mine sites and port facilities.  Alternatively, you can pick your products up from our yard at Lot 101 Great Northern Highway Port Hedland.  Just come see the staff at the admin office during office hours and they will assist you with your requirements.
Our products include-MRWA specification aggregates, crackerdust, roadbase materials, rip rap, ballast, drainage stone, armour rock, north pole decorative stone, river shingle, screened river sand and pindan.  We also offer a bulk water supply, asphalt and concrete disposal service and a laydown storage area.
Our materials can be used for road construction, driveways, gardens & landscaping, carparks, railway track maintenance and much more.
Our friendly team are more than happy to discuss your requirements and provide you with more information on our products and services.
Please do not hesitate to call us on 0427 963 922 or Request a Quote